By Kevin Siembieda
One game system – every genre – countless worlds – endless adventure
The Rifter® #84 is shipping today, November 14. It has been brutal cold and we got hit with 8-11 inches of snow in and around Detroit and the Palladium warehouse and the printer, so I was concerned delivery might be delayed, but it arrived today and looks wonderful. This is another great issue. In fact, I highly recommend the last 5-6 issues.
The Garden of the Gods™ Fantasy sourcebook gets closer to completion with every passing day. In fact, I hope to see it to go into typesetting and layout by the end of next week. I went a little crazy with the writing, but it made a great book even bigger and better. There are more Blessings, more god statues, the astonishing Garden, the addition of Miraculous Blessings, the Champion of the Gods (could be your character), the Knights-Fossar, the Black Pit, and more. Very excited.
Christmas is fast approaching. Only 5 weeks away, so keep those Christmas Surprise Package orders coming in and don't forget to factor in shipping time. Get a jump on Black Friday and Cyber Monday and avoid delivery concerns by ordering the best deal in gaming – the Christmas Surprise Packages – available right now. I have been loading them up with books and holiday joy. You get so much, you can probably provide Christmas presents for at least two people, maybe more with just one Surprise Package.
Palladium's Christmas Surprise Package has been delighting gamers for 21 years. It is great for getting gamers gifts for Christmas, Hanukkah, Kwanzaa, birthdays, anniversaries, or to treat yourself, try new game settings, fill holes in your collection, get autographed books, art, prints, etc. You can read fan comments after my Closing Thoughts. See more details later in this update or click here.
New on DriveThru – The Rifter® #82 is new this week, hot on the tail of Rifts® Sovietski™ which was made available last week. This means you can now get PDFs of The Rifter® #1-82 and all three of the Rifts® Russia titles – Warlords of Russia™, Mystic Russia™, and Rifts® Sovietski™ – as PDFs from DriveThruRPG.com. Or build a sprawling "Rifts® Europe campaign" with the addition of Rifts® Mindwerks™ (Poland), Triax & the NGR™ and Triax™ 2 (Germany), as well as Rifts® England™ (Millennium Trees, ley lines, and herbs) and Rifts® Africa™ (Erin Tarn, Victor Lazlo, the Four Horsemen of the Apocalypse), and maybe even neighboring Rifts® Atlantis™, Splynn Dimensional Market™, and Secrets of the Atlanteans™ for an even more expansive Rifts® campaign in that part of the world. A nice combination of titles to request in a Palladium Christmas Surprise Package, too.
I decided to add more artwork to Rifts® Titan Robotics™ so I have been assigning it out and writing contracts, as well as hammering away on Garden of the Gods™ (finished 100 manuscript pages since Monday), as well as a little work on In the Face of Death™, Psychic Scream™, and other projects. All are moving along nicely. Once books start being released, we want the flow to keep going, one after another. And as I keep saying, all of these books are going to be freakin' awesome.
Don't forget about the Palladium Open House. 3-4 days of epic gaming with the people who make the games you love. We recommend you order your admissions sooner than later to guarantee a place at the event. Limited to about 300 people plus 50 Palladium creators estimated to be in attendance. Games. Fun. Games. Speaking of which, we'll need G.M.s to run game events. Come join the fun. Admissions available now. Just a reminder.
Alex and I will be posting a bunch of negatives over the next week, along with other collectibles, original art and items in my Ebay store. I signed a few hundred negatives (as well as books for Surprise Packages) and now I have to divide them up into sets to sell in my store. There are also a handful of slightly damaged Printer Proofs of various hardcovers, including the very limited Rifts® Bestiary Crimson Edition, Gold Edition, and Color Cover Hardcover, ALL Printer Proofs with one of my large dragon head sketches, along with other Palladium titles, artwork, and collectibles on sale. Check it out at: http://stores.ebay.com/kevinstoys-artandcollectibles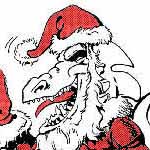 Only 5 Weeks till Christmas – Order your Palladium Christmas Surprise Package NOW to beat the rush and save on shipping
It's that time again for the Palladium Christmas Surprise Package offer. Palladium Books® has been doing Christmas Surprise Packages, or "Grab Bags," for 21 years! And what a great tradition it has become.
It enables you to get several RPG titles ($95-$100+ worth) for ONLY $50 (plus shipping and handling) as gifts for others or for yourself. It is our way of saying thank you to our many fans for being so kind and patient, and for your years of support. You are appreciated more than you may realize.
Christmas Surprise Packages are not just for Christmas. Whether you celebrate Christmas, Hanukkah, Kwanzaa, or the Winter Solstice, or you're looking for that special gift for a birthday, anniversary, graduation, or any special occasion that falls between now and February, a Surprise Package may be the ideal way to go. You get a ton of stuff on the cheap, you can get a bunch of autographs (if you want 'em), and you look like you spent a fortune.
This is also a great way to try that game setting you've wondered about – Splicers®, Dead Reign®, Chaos Earth®, Palladium Fantasy®, Nightbane®, Mechanoid Invasion®, Rifts®, After the Bomb®, etc. – or to get something for your favorite Game Master. Or perhaps, to get your player group to consider a new game or setting.
Your "Wish List" is vital – the Palladium Surprise Packages are designed to simulate the joy and surprise of the Christmas Season of Giving. To do this, you submit a list of 12-15 Palladium products (or more) FOR EACH Surprise Package you order. This list of 12-15 items for EACH Grab Bag is critical, because you will not know which items we will select to send you. That makes it just like a Christmas gift because it's a surprise. Plus, Santa Kevin, who personally hand-picks every item for every Grab Bag, may toss in something extra like a limited edition print, or color maps, or T-shirt, or issue of The Rifter®, or something else he thinks you'll enjoy.
Autographed books. For those of you who want them (which are most people), available members of the Palladium staff, and any freelancers we can lasso at the time, are happy to autograph each and every book in your Surprise Package. This is the only way many fans, especially those in other countries, can EVER get signed books.
Send us your brief comments. There is a special form and format to fill out for Christmas Surprise Packages, including a place where you can offer your brief comments, suggestions, greetings and salutations.
It only costs $50 plus shipping to get $95-$100+ worth of Palladium products! First-timers are always nervous until they see the great value in their first Surprise Package. A typical Grab Bag has $95-$100 worth of product, sometimes more! Yes, sometimes more. Many people order 2-3. Some order 4-6, and some maniacs order even more! It makes sense, because it is a great way to fill holes in your own collection, treat yourself, get autographs, try new games and settings, rebuild your collection, replace worn out books, and get your gaming pals gifts. PLEASE spread the word about this great offer.
To those of you outside the USA, the X-Mas Surprise Package is a way to get books and circumvent the damn high cost of shipping from the United States. Since you are getting $95-$100 (often more) worth of product and only paying $50 plus a small handling charge, and shipping via Priority Mail International (required for packages weighing more than four pounds) to most locations in Europe, Canada and many other countries is around $50-$60 US dollars. HOWEVER, because the cost of the product is so low, that's the equivalent of paying retail for the products and only $0-$30 for shipping. A very good deal. Plus you get autographs if you want them! X-Mas Surprise Packages are the way to go for those of you outside the USA. Please take advantage of it to get all those products you've wished you could get except the shipping was too prohibitive. We feel your pain. Game on!
IMPORTANT NOTE: The X-Mas Surprise Package is a Grab Bag. As such, while we always try to send you items from your Wish List, you may NOT get everything you ask for and you are likely to get one or more items NOT on your list, like The Rifter®, or other item(s) we think you should enjoy. PLEASE give us a long Wish List and fill out other questions (favorite Palladium games, would like to try X, and so on) because it helps us to make your Surprise Package special. If you need or want specific items, do NOT use the Surprise Package; place a regular order at full retail to guarantee you get the books you want. Offer ends December 24, 2019. Also note: There are no Digital Surprise Packages this year.
Please tell everyone about the Christmas Surprise Packages. We want to put smiles on the faces of gamers around the world.
See the complete Christmas Surprise Package description here.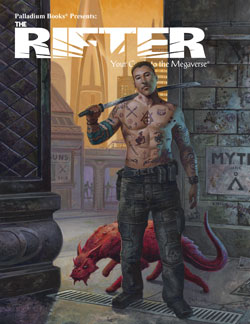 UPDATE: The Rifter® #84 – available and shipping now
The Rifter® #84 is shipping today! Another great issue full of fun source material to keep you gaming throughout what is looking like a long, cold, early winter.
The Rifter® #84 focuses on adventure in dark corners of various world settings. Places where danger threatens, monsters and evildoers lurk in the shadows, and people are in need of heroes. Adventure source material for The Palladium Fantasy RPG®, Heroes Unlimited™, Beyond the Supernatural™, Nightbane®, and Rifts®. And remember, adventures and source material for one game setting can also be adapted to other world settings with some easy and obvious modifications. Most of all, have fun.
Rifter® #84 Highlights:
NEW! Land of the Damned™ Three: The Bleakness™ – Raw Preview Limited Edition – Available now
People are loving the Raw Preview Edition of LotD-3: The Bleakness™, for Palladium Fantasy RPG®. Now is your chance to get a glimpse of the future for this summer 2020 release, and be the first to peer into and play inside the Bleakness and the Citadel of the Land of the Damned. May be requested in Christmas Surprise Packages.
Get 'em while you can because it is limited to only 200 copies and selling fast! The LotD-3: The Bleakness™ Raw Preview is an advance copy of the unedited, unillustrated, working manuscript for this upcoming, new Fantasy World Book. You get to see the unfinished book months before the final title is released to put you in the know ahead of most people, and to start playing now. A rare look at the raw manuscript before final edit, rewrites, and publication that give you a glimpse of Palladium's work and development process. Limited to a total of 200 copies.
This epic sourcebook presents more of the forbidden Land of the Damned in all its brutal glory. Includes information about the ancient and forgotten eldritch races, the Minotaur legions, dark magic, the Citadel, the Bleakness, countless adventure hooks and ideas, and much, much more. The long awaited final book in the Land of the Damned series will have connections to the Garden of the Gods™ and the upcoming Lopan Fantasy World Book.
Note: The finished book is anticipated to ship next summer, but you can see what it's all about right now and even start playing with this special Preview Edition!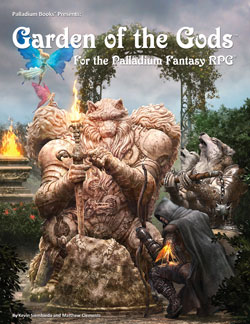 UPDATE: Garden of the Gods™ (Fantasy) – in final production
Epic! Expansive. 40+ Forgotten Gods, 50+ Curses. 80+ Blessings, plus Holy Weapons, magic artifacts, an overview of the Garden of the Gods, visions, miracles, Knightly protectors, Champions of the Gods, Faerie Folk, the Black Pit, five Greatest Rune Weapons of the Old Ones, mystery, secrets, and more! If this book doesn't get players and Game Masters excited, nothing will. Garden of the Gods™ also helps to set up several other Palladium Fantasy titles in the works or done and waiting for final edit and tweaking.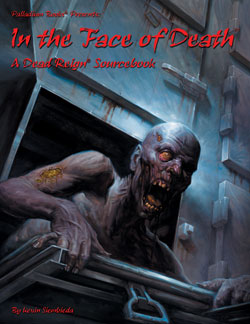 UPDATE: Dead Reign®: In the Face of Death™
This is the next book to be finished as soon as I'm done with Garden of the Gods. Cannot wait. Full of death cults, weirdness and hope! A December release.
UPDATE: Rifts® Titan Robotics™ – Winter release
Every time I look at the artwork for this book I just think, wow. One of many titles that will excite and tantalize your imaginations. A ton of toys for players and ideas for Game Masters. Robots and power armor galore, but also the inner workings of Titan Robotics and Archie Three's schemes. I think 80% of the artwork is done. I continue to make notes and we are all pumped up about this power armor, robot, and weapon filled sourcebook.
Rifts® Titan Robotics™ is another high-tech toy box presenting new types of armor, sleek power armor, giant robots, vehicles, and weapons sold by Titan Robotics. Ah, but Titan Robotics is much more than just another weapons manufacturer, it is the secret operation of ARCHIE-3 and all part of his plan to monitor and manipulate the outside world. Learn about Archie's androids that run Titan Robotics, his current schemes and plans for the future. Probably a 160 page World Book around $22.99 retail, but may expand into 192 pages.
A Fall surprise or two
If things go well, I may slip in a Raw Edition and a surprise release before Christmas. The surprise is a little something that has been eating away at me and that I've been working on here and there. No more details until I know it's coming out.
UPDATE: Rifts® Chaos Earth® – Psychic Scream™ – Winter release
You will love Psychic Scream™, though I think I'm going to slot in Rifts® Titan Robotics™ ahead of it since so much more of that book is finished, art and all. If the description for Psychic Scream™ doesn't get your heart pumping, I don't know what will! Making notes and adding ideas that will blow your minds.
UPDATE: Rifts® Antarctica™ – Winter release
I am bursting with ideas and had to stop and make all kinds of notes. I think Rifts® Antarctica™ is going to surprise and delight a lot of people. It is also a great example of the fun you can have with the Raw Editions. The sold out Rifts® Antarctica Raw Edition is a far cry from what the finished book is going to be. Those of you who bought the Raw Edition get a glimpse at Palladium's creative process. When you compare the two, you'll see what we kept, what we eliminated, what we added, and how we embellished the material to reach the creative finale of the finished book coming this fall or winter. Fun and educational for those of you who aspire to be writers yourself or just like to have the inside track at Palladium. And true of all Raw Editions vs the finished book. Probably a fall or winter release.
Rifts® Antarctica is a truly compelling and exotic land beyond what anyone expects. A frozen continent transformed by the power of magic and alien wildlife. Long isolated from the rest of the world, Rifts, D-Shifting events and the threat of war have now brought the distant South Pole within reach. Probably a 160 page World Book around $22.99 retail.
UPDATE: Rifts® Bestiary™, Volume Two – Winter release
Nothing new on this front, but we all want it to be released as quickly as possible. Looking at a winter release.
UPDATE: The Disavowed™, Living Nowhere™, Beyond the Supernatural™ sourcebooks, and other titles
These titles and several others are NOT forgotten and are in various stages of active production or waiting for production. As always, just because a book is not specifically listed in every Weekly Update, it does not mean it is discontinued or in limbo, it means there are more immediate things to talk about or there's no substantive news to report. We are anxious to put as many of the books you've been waiting for into your hands as possible over the next 18 months. That includes Rifts® Disavowed™, Chaos Earth® First Responders™, Rifts® Antarctica, Rifts® CS Arsenal™, Rifts® Living Nowhere™, Beyond the Supernatural™ sourcebooks, more Fantasy sourcebooks and other titles. So if a book you are waiting for is not mentioned in an Update, it means there is nothing new to report, but it should still be in the pipeline and news for it will be coming in the weeks or months ahead. Right now, we are focused on releases for the next six months, which by our count is 6-7 titles. And many of them are in various stages of production or development.
NEW on DriveThruRPG – The Rifter® #82 and Rifts® World Book 36: The Sovietski™
The Rifter® #82 is a special, 112 page issue packed with official source material and a tribute to the late, great Erick Wujcik. It includes the Rifts® Chaos Earth® Pyromancer O.C.C. and 50+ new fire and lava-based spells, Nightbane® Age Modifier rules, Heroes Unlimited™ Vigilante revisited, gaming tips from Erick Wujcik, a moving tribute to Erick with insight into Palladium's past, and more.
Also new as of last week, Rifts® World Book 36: Sovietski. It is a diverse, fun, 224 page World Book full of cyborgs, weapons, tech, tanks, and details about the Sovietski war machine, the new KGB, key cities, its people and society, as well as D-Bees and adventure.
Recent releases: Free Rifts® Bestiary™ Volume One Sneak Preview; The Rifter® #81: A big 112 page issue filled with "official" source material and Wolfen Vampire adventure for Palladium Fantasy RPG® (20+ NPCs), Gnomes of the Ophid's Grasslands), Rifts® Chaos Earth® Nebraska Part 2, Heroes Unlimited™ (Super Sleuth), and more. Palladium Fantasy RPG® Interactive Character Sheet: A Microsoft Excel-based character management system. Packed with features and data collected from every official Palladium Fantasy sourcebook to enable you to create Fantasy characters quickly (25 minutes!) and help you to update and manage them for years to come. Rifts® Dimension Book™ 15: Secrets of the Atlanteans™ (True Atlanteans, their tribes, goals, and history, more about the Sunaj, new Magic Tattoos, new Shadow Magic™, new Shadow monsters, maps and descriptions of Atlantean Stone Pyramids, and more about the wicked Sunaj's secret agenda. An awesome resource and fun read). The Rifter® #80: A big 112 page issue filled with "official" source material for Palladium Fantasy RPG®, Rifts®, Chaos Earth® (setting and monsters), Splicers® (desert setting), Heroes Unlimited™ (villains), and more. The Rifter® #79 (Rifts®, Palladium Fantasy®, Heroes Unlimited™, Gaming through History, G.M., and more), The Rifter® #78 (the Modern Necromancer, Palladium Fantasy®, Rifts®, Splicers®, more); Rifts® Heroes of Humanity™, the Coalition's response to the escalating Minion War™ crisis, Psi-Battalion, CS Demon Hunter, special training and more).
Dead Reign® Paper Miniatures Volume Three: Zombies, Dead Reign® Paper Miniatures Volume Two: Civilians and Dead Reign® Paper Miniatures Volume One: Survivors. There are also paper miniatures for Heroes Unlimited™, Palladium Fantasy® and Rifts®. A new, up-to-date, PDF Palladium Books Catalog. Nightbane® Dark Designs™ sourcebook with 60 new Common Talents, 38 new Elite Talents, 18 new Morphus Tables, all other Morphus Tables collected and more. Systems Failure™ RPG, a 160 page RPG that deals with alien invasion and a post-apocalypse setting that is fun and dynamic. Civilization is on the verge of collapse when the so-called "bugs" invade and turn humans into zombie-like slaves. Monsters, heroes and fun. A complete RPG and setting. Rifts® World Book 34: Northern Gun™ Two: 256 pages of technology and fun. 30+ power armors, 30+ body armors, 15 combat vehicles, 45 vehicles (hovercycles, etc.), 10 robot haulers, the Robodome and more. Bizantium and the Northern Islands™: the northernmost part of the Known World, the Cold Born, Necromancy ships made from dead sea serpents, 15 creatures, Random Sea Monster Generator, and more. Rifts® Northern Gun™ One. This fan favorite might be thought of as the big book of giant robots – an in-depth look at Northern Gun, 70+ weapons, 27 robots, NG O.C.C.s, key people and places, and much more. Mysteries of Magic™ Book One: The Heart of Magic™ with Wizards, their Apprentices, nearly 60 new magic spells and remember, magic and monsters in the Fantasy RPG are easily adapted to Rifts®, Chaos Earth®, HU2 and other settings. Wolfen Empire™ Fantasy sourcebook, the Great Northern Wilderness and Killer Winters, 12 Wolfen Tribes, Wolfen military and society, 15+ creatures, 5 full adventures, 101 adventure ideas, random encounter tables, notable people, places, plus FREE Sneak Previews of The Rifter® #80, The Rifter® #81, The Rifter® #82, and more on DriveThruRPG.com.
Read more: Palladium Books® Weekly Update – November 14, 2019