One game system – every genre – countless worlds – endless adventure
By Kevin Siembieda
I do not want you to miss out on these two sales, both of which END after midnight on Wednesday, May 13, 2020, and will NOT be extended. Please spread the word. We are thrilled to see many new customers and first-time people trying Rifts®, Chaos Earth® RPG, Palladium Fantasy RPG®, Heroes Unlimited™, Nightbane®, and others, and hope to see those numbers continue to grow.
Yes, I continue to sign random books as I pull and pack them every morning as a sign of appreciation. Hopefully, it puts a little smile on your face and makes you feel special, because you are!
Rifts® SALE – Extended to END after midnight on May 13, 2020
Several different physical book titles are on sale at PalladiumBooks.com, including the core rule book.
Monsters & Aliens SALE – on DriveThruRPG.com – ENDS after midnight, Wednesday, May 13, 2020
Expand your monster collection with these select titles, each featuring a plethora of idea generating monsters, demons, aliens and creatures from across the Megaverse. All easily adapted to any Palladium setting (and with a bit more work, to other game systems). The sale ENDS after midnight, May 13, 2020. Enjoy and game on.
Monsters & Animals™ (Fantasy) – 120+ monsters, 200+ animals.
Dragons & Gods™ (Fantasy) – 40 gods, 20 Demon Lords, 14 dragons, Elementals, the deific powers of the gods, magic weapons, and more.
Land of the Damned One™: Chaos Lands™ (Fantasy) – Lots of monsters and magic items.
Nightbane® RPG – Modern horror set in a world of dark conspiracy where the monsters are the heroes. Trust nobody. You play the Nightbane, humans born with a connection to magic and the supernatural. That link enables the Nightbane to see the demonic Nightlords and their evil Dopplegangers that are secretly, quietly invading Earth (think Invasion of the Body Snatchers). But to fight them and their demonic minions, you must transform into a monster yourself. A monster you design yourself.
Nightlands™ Nightbane® sourcebook – 12+ monsters, 12+ demonic and mystical villains, the Nightlands described, and more.
Aliens Unlimited™, a Heroes Unlimited™ sourcebook – 85 aliens, 15 alien monsters, alien weapons and more.
Aliens Unlimited™ Galaxy Guide – More aliens and their worlds, space combat, spaceship and planet creation rules, and more.
Rifts® Conversion Book™ One – Monster conversion stats from Fantasy, 40 player races and much more.
Rifts® Conversion Book™ Two – 150+ gods and god pretenders, and more.
Rifts® Conversion Book™ Three – Undead legions, were-beasts and more.
Rifts® New West™ – All kinds of strange beasts.
Rifts® Spirit West™ – Beasts, spirits and gods inspired by native American myths and legends.
Rifts® D-Bees of North America – Nearly 100 intelligent humanoid aliens known on Rifts Earth as D-Bees ("Dimensional Beings").
Rifts® Mindwerks™ Sourcebook – Monsters, Gene-Splicers, & much more.
Rifts® Dimension Book 10: Hades – A plane of Hell with dozens of demons, monsters, and dark magic.
Rifts® Dimension Book 11: Dyval – A different, rival plane of Hell and more demons, monsters and dark magic.
Rifts® World Book 35: Megaverse® in Flames™ – Demonic invasion.
Rifts® Chaos Earth® Creatures of Chaos Sourcebook – Archaic demons unleashed by the Great Cataclysm™.
Sale ENDS after midnight May 13, 2020. Game on!
Also see our sale of physical books at PalladiumBooks.com.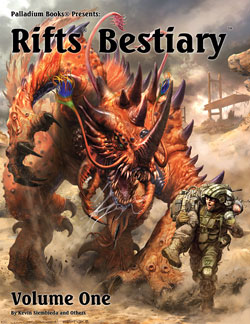 Also on DriveThruRPG.com – Rifts® Bestiary™ Volume One – selling like crazy. Shouldn't you see what all the excitement is about?
Rifts® Bestiary™ Volume One sets a new standard for "monster manuals," with in-depth descriptions of the creature and its life cycle, a map for each, adventure hooks, notes on young animals (different than the adult and not just lower stats), creatures that can be tamed and used as guard animals, pets, riding animals, and S.D.C. stats for non-Mega-Damage game settings. The latter making this big 256 page sourcebook suitable for almost any world setting where such beasts are possible.
News Bits
At the moment, I'm trying to follow up on a bunch of correspondences. I have had many good moments writing and working on books. Mainly Rifts® Coalition Manhunters™, but also Rifts® Bestiary™ Volume 2, Creature Feature™ BTS Sourcebook and a few others.
UPDATE: In the Face of Death™: It should go to the printer by the end of the week! I cannot wait to get this book in your hands and share the many new and alternative ideas about gaming in the Zombie Apocalypse. There are new ideas and angles about the city setting, characters, Heroic Masked Lunatics, villains, and the types of adventures you can experience.
UPDATE: BTS Creature Feature™: I assigned out a major hunk of art for BTS Creature Feature™ which presents something like a dozen supernatural beasties, adventure ideas, rules clarifications, and a bunch of other good stuff for the Beyond the Supernatural™ setting. That also meant a number of calls and back and forth time with the author, Steven Dawes. One of my favorite people. This will be a fun book.
UPDATE: USPS Mail Service: I have been packing and shipping almost every morning, but the US Mail has been inconsistent and sometimes slow. I am speaking to packages shipped via the United States Postal Service, especially Media Mail. I have noticed even with mail delivered to Palladium Books that some letters and packages arrive quickly and on time, while others are postmarked from 3-4 weeks ago! I myself missed a couple of sale opportunities because the mailing arrived the day after the sale. Grrr.
In most cases, just wait a few (3-5) extra days (make that 12-14 if sent by Media Mail). However, if it has been longer than that, please reach out to Palladium via the Help Desk or phone (734-721-2903) and I will look into the matter. I have noticed Media Mail, which usually takes 3-6 days to most locations, has been taking 3-16 days. Faster types of mail seem to be off by only a few extra days, and UPS seems to be as reliable as usual, or off by only 1-2 days.
If you call the office, you are almost certain to get the answering machine. Leave a message and your phone number and someone will get back to you.
UPDATE: Health: As far as any of us know, the Palladium crew remains healthy and virus free. I try to walk at least 30 minutes every day, sometimes more, and follow the recommended distancing, mask, etc. the couple of times I leave the confines of home or the Palladium office. I feel like we are all doing well and I hope the same goes for all of you.
UPDATE: Current SALES are coming to an end Wednesday after midnight. I will probably offer another DriveThruRPG PDF sale in a week or two. Meanwhile, do not miss out on these current sales. I continue to randomly sign physical books.
More news and stuff coming in the Weekly Update.
Copyright 2020 Palladium Books Inc. All rights reserved.
Rifts®, The Rifter®, RECON®, Splicers®, Powers Unlimited®, Palladium Books®, The Palladium Fantasy Role-Playing Game®, Phase World®, Nightbane®, Megaverse®, The Mechanoids®, The Mechanoid Invasion®, Coalition Wars®, Chaos Earth®, Dead Reign®, and After the Bomb® are Registered Trademarks of Palladium Books Inc.; Beyond the Supernatural, Coalition States, Garden of the Gods, Heroes Unlimited, Ninjas & Superspies, Minion War, Mysteries of Magic, Psychic Scream, SAMAS, Thundercloud Galaxy, Three Galaxies, Vampire Kingdoms, and other published book titles, names, slogans and likenesses are trademarks of Palladium Books Inc., and Kevin Siembieda.
This press release may be reprinted, reposted, linked and shared for the sole purpose of advertising, promotion and sales solicitation.